By The Water BY THE WATER
The Radiators' Camile and Reggie join Dave and Tony
Click here to order by credit card from Cajun Market
1. Lightnin's Troubles
2. Somebody Loan Me A Dime
3. Howlin' For My Darlin'
4. Tomorrow Night
5. Cry To Me
6. Everybody's Going For The Money
7. Person-To-Person
8. One-Room Country Shack
9. By The Water
10. Rock Me, Mama
11. Mississippi Kid
12. Mellow Chick Swing
13. Mother Earth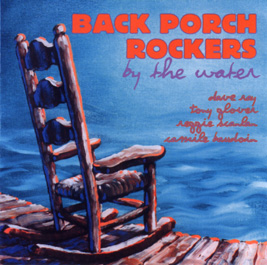 Click here to see the back cover of the original CD
Caution: this may be a 200k – 400k file!
Personnel:
Dave with:
Tony Glover–harmonica and vocals
Camile Baudoin–guitar
Reggie Scanlon–bass
Released 11/99 by JRA, Inc. in cooperation with The Back Porch Rockers, BTW 0498
Recorded live in two 1998 sessions: private party at a residence in the afternoon and a gig at the Turf Club on the evening of the same day.
Click here for printable order form
Click here to return to Compact Disc page
Click here to return to Back Catalog page
Click here to return to Dave's Blues Homepage

Click here for the usual disclaimers and contact information.